I was recently given the opportunity to review some laminated cotton fabric from Splash Fabric. Since I've been learning to sew, I've watched a few videos that call for laminated cotton and I was excited to try it out.
From the website:
"Splash Fabric is coated with a water-based urethane. This protective layer is rolled out in the factory and heat-set to the cotton. The result is a creamy, durable, soft, and all-around fantastic-feeling fabric. The coating will eventually biodegrade, but that won't happen until you are long done using it. With the highest standard for food-safety and eco-friendliness, this is truly feel-good fabric."

The Seattle-based woman owned business started in 2013 and has grown since then. They sell laminated and uncoated cotton, and have a variety of sewing patterns available. I particularly love the Reversible Tub which can be used for small plants or as a knitting project bag!

I originally thought I would make the Reversible Tub, but decided to branch out on my own and try something different. I spent awhile looking for project bag patterns on Etsy. I couldn't decide if I wanted to make a bag with a zipper, or something more of a tote. Ultimately I settled on the Everyday Tote by Sotak. However I did a fair bit of improvising, just using it for the original measurements.
Splash was kind enough to send me 2 one half yard cuts. I chose Juanita and Denim. The fun thing about Splash is it is extra wide. As opposed to normal cotton which comes in at 40-44″ wide, Splash comes in at 58″. So when you get a half yard, you actually get 18″ x 58″. I also found the cuts I received to be generous!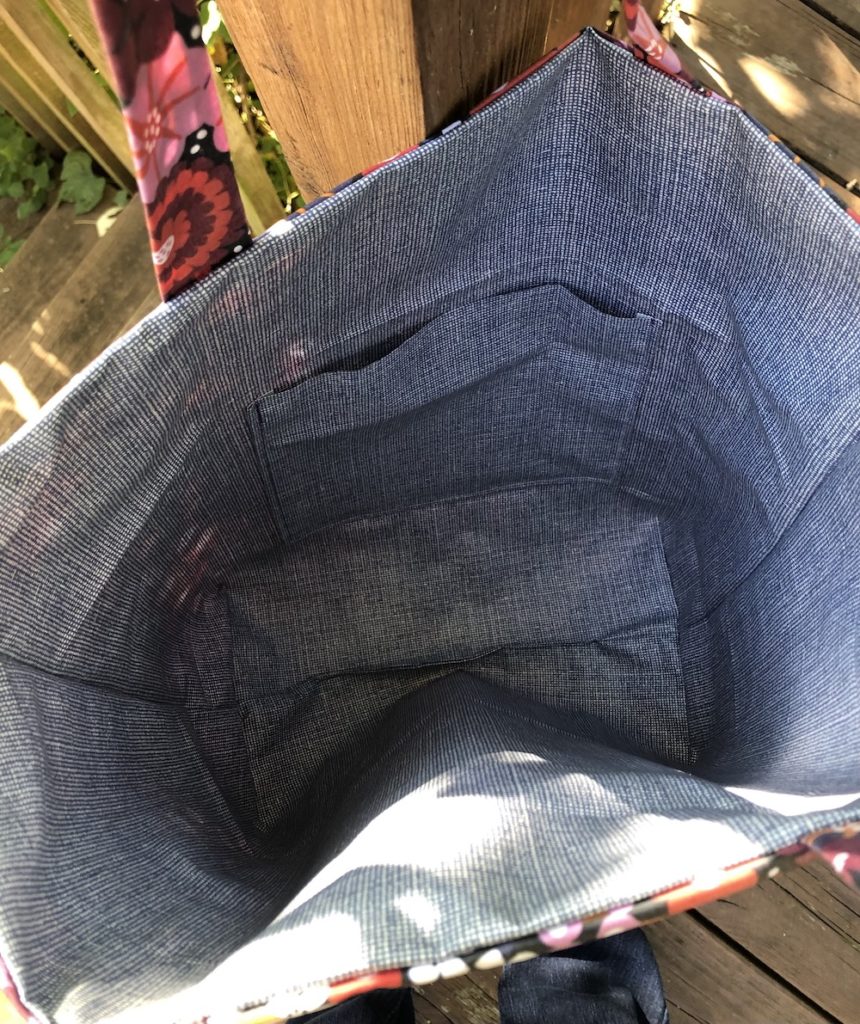 I don't know what I expected but the Splash Laminated Cotton was pretty easy to work with. It's soft and easy to manipulate but also has a bit of body to it. I didn't need to use any special needle (I already had a top stitching needle in my machine, so I went with that) and it worked perfectly with my 100% cotton thread. I found I preferred to use Wonder clips to hold things together whenever possible so I didn't poke holes in the laminate, but I was able to use pins when I needed to (getting that inner pocket in place). The fabric was a both a bit slippery, and a bit tacky. When sewing it, it never moved so I could sew seams with ease. The only challenge I had with it was when cutting. While you can iron the fabric (yes you really can!) I found that lightly ironing it didn't really keep the creases I wanted in place, and so I needed to check and double check that everything was lined up well when I cut. That could also be because I was a newbie in cutting.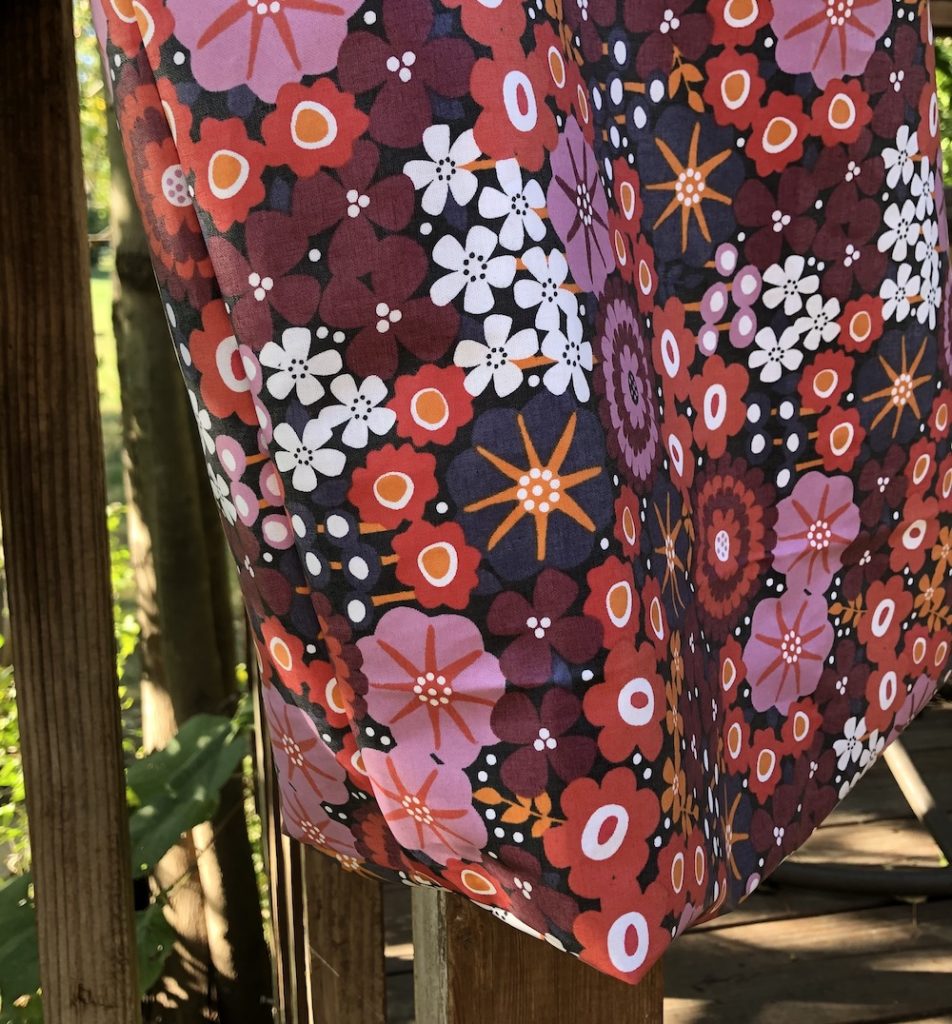 Overall, I'm pleased with the final project. I went ahead and created a tote with both outer fabric and lining in the laminated cotton. I think it makes a fun, usable tote that has a bit of body to it. I can imaging taking this to a farmer's market, the beach or using it as a project bag. The fabric can be washed and dried, but for the most part it says it's sufficient to wipe it down with a damp cloth. And who hasn't spilled coffee on their knitting bag? (It's practically a rite of passage right?). The Splash was easy to work with, and because it's food safe, could also be made into a variety of sandwich bags, lunch totes or bowl covers – anything to keep food fresh and reduce our use of plastic bags and cling wrap.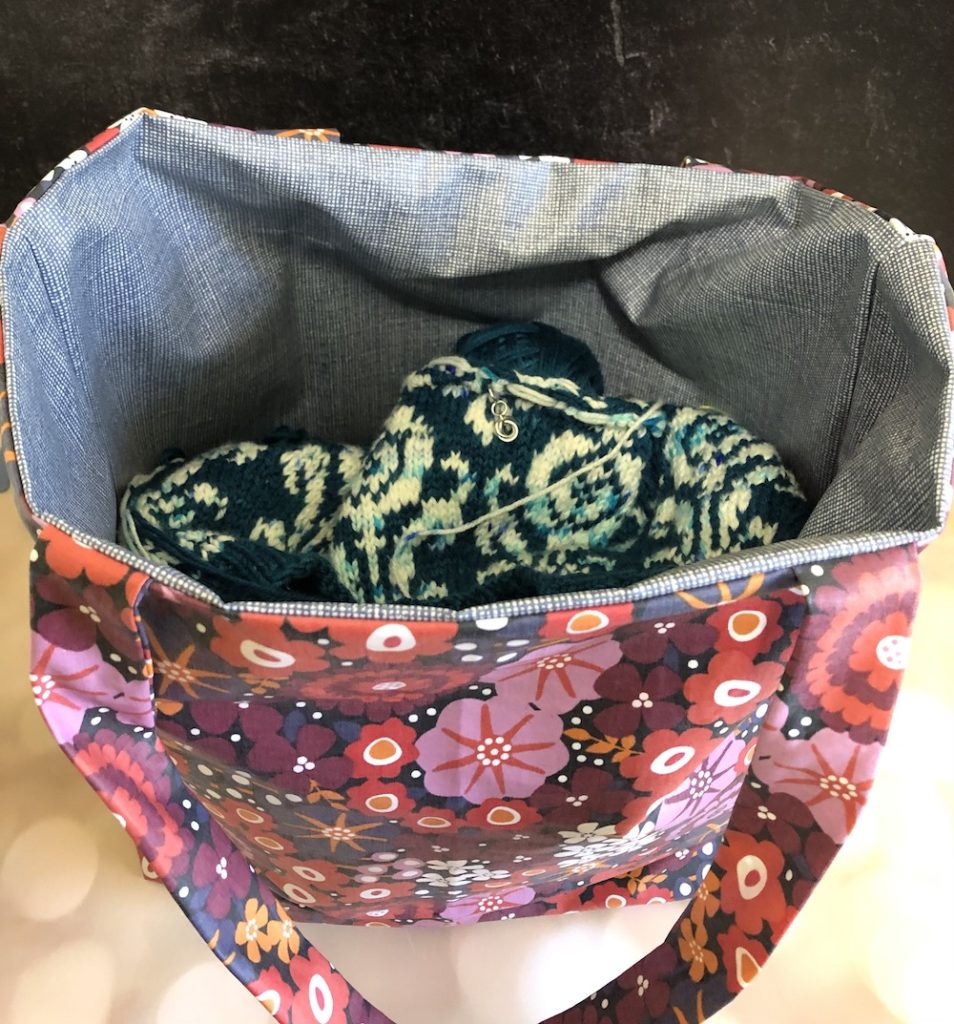 In addition to sending me fabrics for my review, Splash Fabrics would like to extend a discount code to you. You can receive 20% off your order with the discount code KnitAndTea20.
A special thank you to the folks at Stitchcraft Marketing and Splash Fabric who sent me 2 half yard cuts of laminated cotton (retail: $27) for free. I received no other compensation for this review. All opinions and photos are my own.