I'm going to start with a tin of tea I actually bought a few months before starting this whole project.  In October of last year, I was involved in an online swap through Ravelry, a social network site for knitters.  The swap was themed around one of my favorite podcasts, Welcome to Nightvale.
In one of the forums there, someone mentioned the The Town We Do Not Speak Of signatures tea collection at Adagio Teas.  As I understand it, Adagio allows users to create their own signature blends of tea.  Some users also decide to create artwork to go with their teas and then make them available to other users as well. In this case one user created 10 teas as part of her signature collection.  For the adventurous, Adagio offers the collection of 10 as a sampler set, including the mini tins for $39.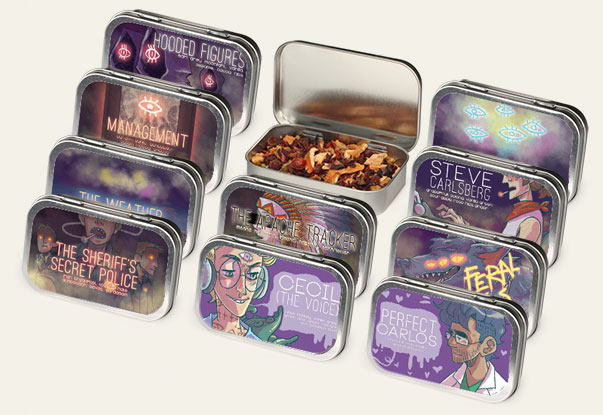 I read through the ingredients in each of the teas and decided to order just one that sounded appealing, Glow Cloud.  The selection was offered in either a 3oz pouch for $10 or a 6oz tin for $24.  What can I say? I really wanted that tin.
Per the Adagio website the signature blend contains green tea, white tea, pu erh dante, orange peels, marigold flowers, apricots, natural mandarin flavor, natural peach flavor and is accented with cranberry and hibiscus.
The first thing I smelled when I opened this tin was the delicate scent of peach. I could see bits of orange peel, cranberry and hibiscus leaves.  I let the tea steep about 2 minutes before drinking and when it was done I was very pleased.
Overall, it tasted tangy and sweet.  I could taste the green tea, but it was subtle, and the citrus and peach flavors definitely came through. I have now drunk this one several times.  It is great as an afternoon pick-me-up and I can see this being a favorite I keep in the collection.