During my wait for my Teavana tumbler, I got impatient and decided to try something different. I had been encouraged by a friend to try The Republic of Tea so I wandered over to their site and browsed.
The first thing I found was their Glass Tumbler with Infuser. It seemed competitive with the Teavana tumbler, so I picked one up to compare and contrast.
I'm also posting a picture of the Teavana tumbler again here so you have an easy reference guide as I compare the two.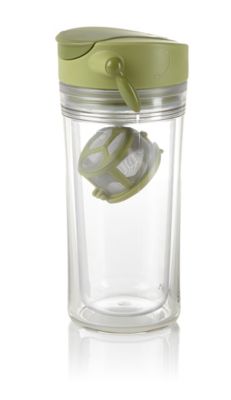 I really like both tumblers for different reasons.
The Republic of Tea glass tumbler is more substantial and sturdy looking than the plastic one from Teavana.  It also has a removable basket for easy cleaning, whereas the Teavana mug's basket is attached to the lid which makes it harder to clean. While I love the lever mechanism on the Teavana tumbler, I do worry that it will break.
However, I love that the Teavana tumbler can stay sealed and keep the beverage warm, and that there's a sipping hole in the lid.  The Republic of Tea glass tumbler must be opened to remove the basket, and there's no sipping hole in the lid – you must unscrew the cap to drink from the tumbler.  It almost seems the glass tumbler would be better suited to brewing and pouring, but that defeats the purpose for me of having a nifty all-in-one mug to use at work.
In short, I like both of them for different reasons and will continue to use both, but thought I'd share my thoughts with you.
Since I was already purchasing something from The Republic of Tea, I also took the opportunity to pick up some of their teas in a make your own sampler.  They have two separate samplers – a 12 pack for $6.95 or a 24-pack for $13.90.  You can select any teas from their menu to add to your custom package. Pick multiples of the same teas or different ones, whatever appeals to you. I decided to order a 24 count sampler so I had some tea bags in the stash.
I look forward to trying these soon!
Also coming up shortly, I'll discuss using tea bags versus brewing loose leaf tea.