I have always been interested in needlework, but sometimes I'm afraid to start another craft! However, I was recently offered the opportunity to try the Positive Plants Kit from MCreativeJ and I jumped at the chance.
MCreativeJ is the brainchild of Melissa Galbraith, a fiber artist inspired by nature. Her modern botanical and landscape designs range from beginner to advanced, including beautiful palettes of color. In addition to pattern design, she teaches embroidery workshops and offers a selection of affordable kits with beautiful materials.
Part of the reason I was so excited to try the Positive Plants kit is because it included everything I needed to complete the design. The kit arrived packaged like a gift, with an embroidery needle, DMC thread, pattern and instructions, an embroidery hoop, fabric, felt, transfer paper and a sawtooth hook (for hanging later). The only tools I used that weren't in the kit were a pencil (to trace the design on the transfer paper) and scissors to snip my threads.
I chose a Saturday afternoon to begin the project. The instructions included started at the very beginning of embroidery (how many threads to use, and how to make your first quilter's knot) and led me through tracing the design, transferring to the fabric in the hoop, and starting to stitch. There are only three stitches used in the design: back stitch, stem stitch and lazy daisy stitch. The pattern includes clear written explanations of each in addition to photo tutorials. There was one of the three where I couldn't quite see what was happening, but a quick YouTube and I was set.
The entire project took me 3-4 hours of stitching, plus a bit to assemble after I washed my work. It was fairly simple and enjoyable and it moved along quickly for a first project. After I finished the stitching it was off for a quick spa treatment in Eucalan and then I pinned it flat to "block" over night. A washing was necessary to dissolve the rest of the transfer paper off, and I pinned so I could avoid ironing before assembly, but I know many folks prefer to lightly steam their pieces instead.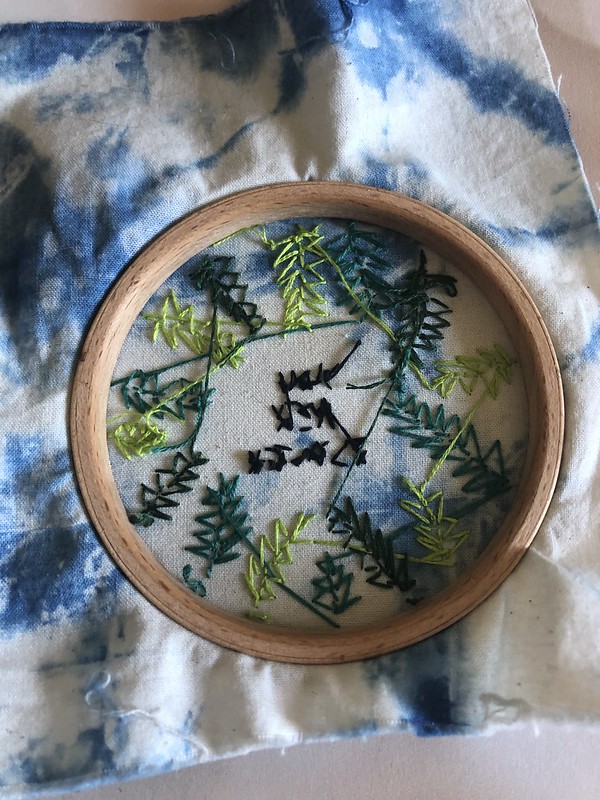 Assembly instructions were easy enough, and the felt backing was even included. I could have chosen to sew on the sawtooth hook, but I ended up adding mine to my bulletin board.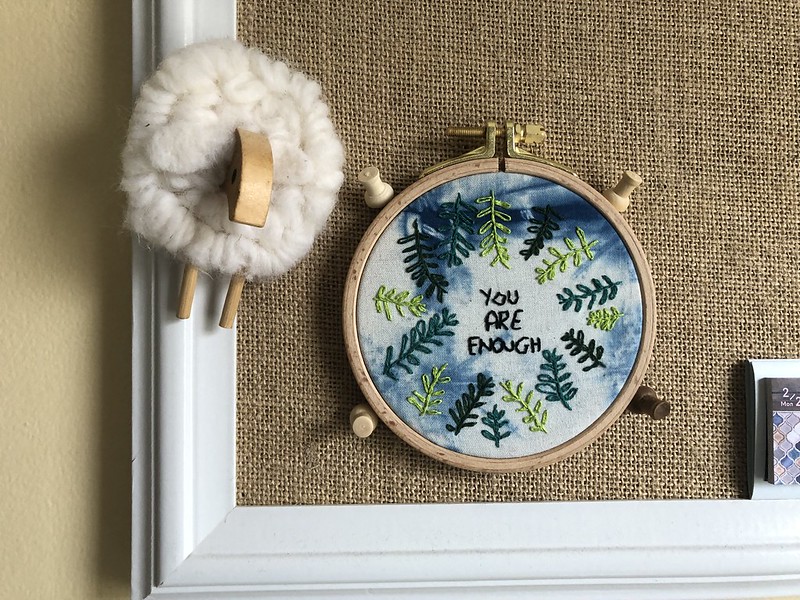 Overall this was a fun little project and I appreciated that I could do the whole piece without anything not included in the kit. I've already got my eye on a few more kits I could happily purchase.
A special thank you to the MCreativeJ who sent me the Positive Plants Kit (retail: $31.00) for free. I received no other compensation for this review. All opinions and photos are my own.